Plugin Spotlight: Portal by Output
Posted by Esteban Miranda on
The more you try and search for new plugins to add to your musical arsenal, the more you seem to find. There's a never-ending collection of plugins out there, all of them vying to be your next addition to help you make the music you love to make.
We are going to be taking a break from our usual production and workflow based content to do some more exploration of plugins and other tools you can use to help your musical ideas flow more freely.
In this article, we'll be exploring Portal by Output, a powerful Granular FX plugin that's been adding lush dimensions to my track in recent weeks!
So, in this guide we will explore:
The features of Portal
Some of the ways you can use it
How to get the most out of it in your productions
So let's dive right in!
Portal
Portal's key features are:
250+ presets for instant playability
A circular XY Control linked to granular parameters
Powerful time manipulation engine
Tempo-synced grain delay
Scale-based pitch modulation
7 built-in FX with an additional master compressor and filter
Value readout panel for better understanding of controls
Favouriting feature in Presets menu
Built-in Tool Tips on Advanced page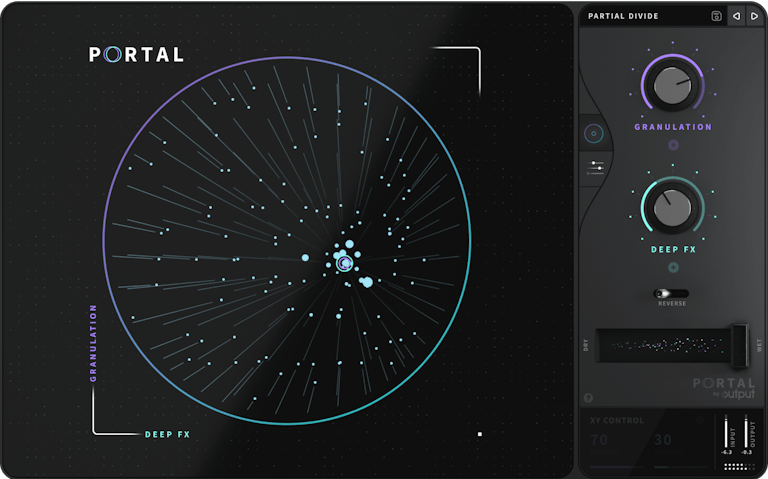 Portal has a stunning interface, and hiding underneath this is a powerful Granular based multi-effect, focusing on deep grain manipulation and modulation, which you can both automate and control manually. 
Output's website puts a lot of emphasis on using Portal to create 'playable' effects which help turn one musical idea into infinitely more. This is an incredibly spot on description.
In my own use, I used it to create lush background textures by throwing it over a varied selection of different sound sources. 
I used it on a simple Sine lead pattern, which became washed in lush ambience, with the odd blippy remnant of the original Sine lead phrase creeping through. It was three dimensional and sounded somehow personal, which really brought my attention back to the phrases used by Output in their advertising. This really does help you create new ideas that are specifically yours, because you're using your own ideas as a sound source, and then sending them through this Portal of sonic manipulation. 
So, let's explore the interface in a bit more detail.
Portal's Interface
As you can see in the main image above, the home screen of Portal features a circular X/Y matrix in the form of the large circular window on the right. Within this matrix is a dot, and moving this around adjusts the two Macro parameters on the right of the interface. This is essentially a performance control interface, giving a stripped down overview of the controls working in the particular preset or user patch.
Now, what's important to note is that the two knobs on the right are contextual, meaning that they are different depending on which preset you choose, and there are over 250 presets, too.
On the right panel we also have a (beautiful) Reverse switch, as well as a Dry/Wet control, and options for the input and output of the signal.
A point about this interface - While absolutely not necessary to make a great plugin (just look at Ableton Live's utilitarian style design) the design behind Portal is incredible. The matrix on the left gives such beautiful visual feedback, the colours are stunning, and the little granular details that evolve when you adjust the Dry/Wet control all add up to a truly enjoyable experience.
But, as you can see below, hiding behind this deceptively simple home interface is a plethora of complex controls, giving you the ability to fine tune and control as many characteristics of the sound as you can.
The top section is called Grain Controls. This is where the granulator engine slices the income signal into 'grains', and adjusts their generation and playback. You can generate up to 16 grains at a time, using an adjustable sampling rate from 1/64t to 1 bar.
Grains can be pitched up and down, as well as snapped to a range of scales or chords. This can be really cool for creating three dimensional soundscapes. As well as this, you can shorten or lengthen the grains, slow them down in sync with your DAW (or not), pan them, offset them, and apply envelopes for softening. 
The fun thing about these parameters is that many of them allow you to apply a randomising effect, giving you some really strange and wonderful sounds. Further, the Grain Delay section routs the output signal back into the input, for even more granulising.
Effects and Modulation
As you'd expect with a plugin like this, the modulation and effects are where the real creativity lies. 
The Effects section is made up of two processors in series, which work in between the granulator and the Master bus. This means you can apply them to both the dry signal coming into Portal, and the granulated signal going out. 
As you can see in the image above, the effects section has two panels, and I've opened the dropdown selection menu to see the range of effects on offer.
The effects are:
Bit Reducer

 

- you get sample rate and bit depth reduction
Chorus - you can modulated this at up to 500Hz.
Distortion - there are different styles here; Soft, Hard and Foldback.
Filter - you have high and low pass options at both 12 and 24dB, as well as overdrive and envelope following.
Phaser

 

- this runs up to 32 stages and you can switch on Barberpole mode.
Reverb

 

- this includes a freeze button for capturing the tail of the audio. Perfect for creating lush pads.
Delay

 

- this includes both ping pong and stereo options, as well as HP/LP filters.
The coolest thing about these effects is how great they sound on their own. But where Portal truly shines is when you then modulate the effects using the envelopes and Macros. This makes things even more interesting, and creates practically limitless possibilities.
Modulation really is the key to getting the most out of the capabilites packed into Portal.
So, remember those two Macro knobs we discussed earlier? These are key here. Using these renamable knobs, and the on  board envelopes/LFOs, you can drag and drop as many parameters as you want to to modulate things. Nothing is off limits here!
The two macros knobs are slaved to the X/Y matrix, which you will see as you move the dot around in the circular interface.
The envelopes give you a detailed and versatile level of control over a wide range of parameters too, running synced rates from 1/64t to 8 bars, or you can run them unsynced up to 30Hz. There's also randomisation applied with the Humanize knobs.
Verdict
Portal is an absolute powerhouse of an effects unit. It looks incredible, sounds even better, and allows endless possibilities when it comes to adding new sounds and ideas into your work flow. 
There are dry/wet controls in every part of the plugin, meaning you can really fine tune your mixing between how all of the various sections interact with one another. 
The biggest point about Portal though is how much it sparks musical creativity. Usually when you hear granular effects, you think of a ridiculously deconstructed sound which doesn't really have a lot of uses. But that isn't the case with Portal. The possibilities really are limitless, adding beautiful textures using everything from rhythmic, tonal and harmonic elements, with a bit of pitching and glitching thrown in for good measure.
This has very quickly become an absolutely essential part of my toolkit, allowing me to create some really unique and beautiful textures in my music.
So, if you already own this, hopefully this gave you a nice little reminder, or a bit of insight into some of the controls and features. If not, be sure to head over to Output's website where you can grab it for £131. 
It's a steep price point, but absolutely worth the money!
---
Share this post
---
---