Logic Pro Cost
Posted by Esteban Miranda on
Logic Pro - as you all know - is Apple's flagship DAW. In this guide, we will cover how much Logic costs, and what the other options are. We will discuss;
The price of Logic Pro X

How this compares to the other DAWs out there

Our thoughts on the best deal

So let's jump in!
How much does Logic Pro X cost?



Before we go into detail about the cost, it's worth noting that while the likes of Ableton Live have seen updated versions as recently as February of 2021 with Ableton Live 11, Logic Pro X was launched in 2013, and we are yet to have a 'full' new version of Logic since then. However, Logic's version 10.5 is essentially a new version in all but name, since it brings in a ton of new features to bring Logic up to date and give it a similar level of music making power to its contemporaries.
So how much does it cost?
Logic has always been a great choice for Mac users because it has such a competitive price point, for £199.99, it's a bargain. While some would say the price is justifiably low because the new features they introduce are more following trends than setting them, there's no escaping the great price of Logic Pro. For less than £200, you're getting access to a full range of music production software.
How does this compete with other options?
When it comes to music production software, there are several big name players in the game. But the main ones are Ableton Live, Logic Pro and FL Studio, with others such as Cubase, Reason and Bitwig also available. 
While many if not all of these offer free trials, they also offer different levels of purchase, which is something to consider when compared with Logic's flat price. For this comparison, we will compare the cost of the full versions of each DAW, to give you the best idea of what a similar amount of music production tools would cost relative to each other.
Ableton Live 11

Ableton Live has never been known for being a cheap DAW. With the full version coming in at a staggering £539, it's a huge investment when it comes to music production software. Advertised as a 'Complete Integrated Studio', Ableton Live Suite is an undeniably expensive product.
However, I do personally believe that this is a fair price, because Ableton have been trend setters in the electronic music production industry for a long time now. Ableton Live famously offers two different views, the Clip View and the Arrangement View, and its use of Clips and Loops as a composition tool literally revolutionised the music making process.
It's an industry leading software for a reason, used by many professional producers, and with over 70GB of sounds, 17 Software instruments, 59 Audio Effects and 15 MIDI effects, this is truly an integrated studio for any music producer.
FL Studio

Having never used FL Studio myself, my knowledge of this DAW is limited compared to Logic and Ableton. However, whether it's due to the original name 'Fruity Loops', or its comparatively cluttered user interface, FL Studio has a reputation for being somewhat 'less serious' a DAW than its competitors.
However, it's not without its merits. It gained almost legendary status among a certain generation of producers, especially in the hip-hop and EDM scenes, and many a producer owe the beginning of their careers to this DAW.
There are 4 different versions of FL Studio on offer, with the full version - the "All Plugins Edition" - coming in at £362.93, which is quite a specific price. While it's not as pricey as Ableton Live, it's definitely more expensive than Logic Pro X. 
Fl Studio is a great buy if you're an EDM producer, and the lifetime free upgrades feature is a nice addition, giving existing users of the software automatic upgrades to version 20, with new features being added regularly.
Steinberg Cubase

Cubase is an old DAW. I remember using it when I was studying in college, with was going on 10 years ago now, and it's even older than that. However, I remember a charming DAW with a nice interface and some really neat features, though I haven't used a version of it since roughly 2011.
As with other DAWs, Cubase offers several editions, with the Full Version of Cubase Pro 11 costing £499. Boasting a selection of 70 Audio FX, 8 VST instruments and 18 MIDI FX, Cubase Pro 11 is an oldie but a goodie. Still able to hold its own against the other flagship DAWs.
Reason Studios Reason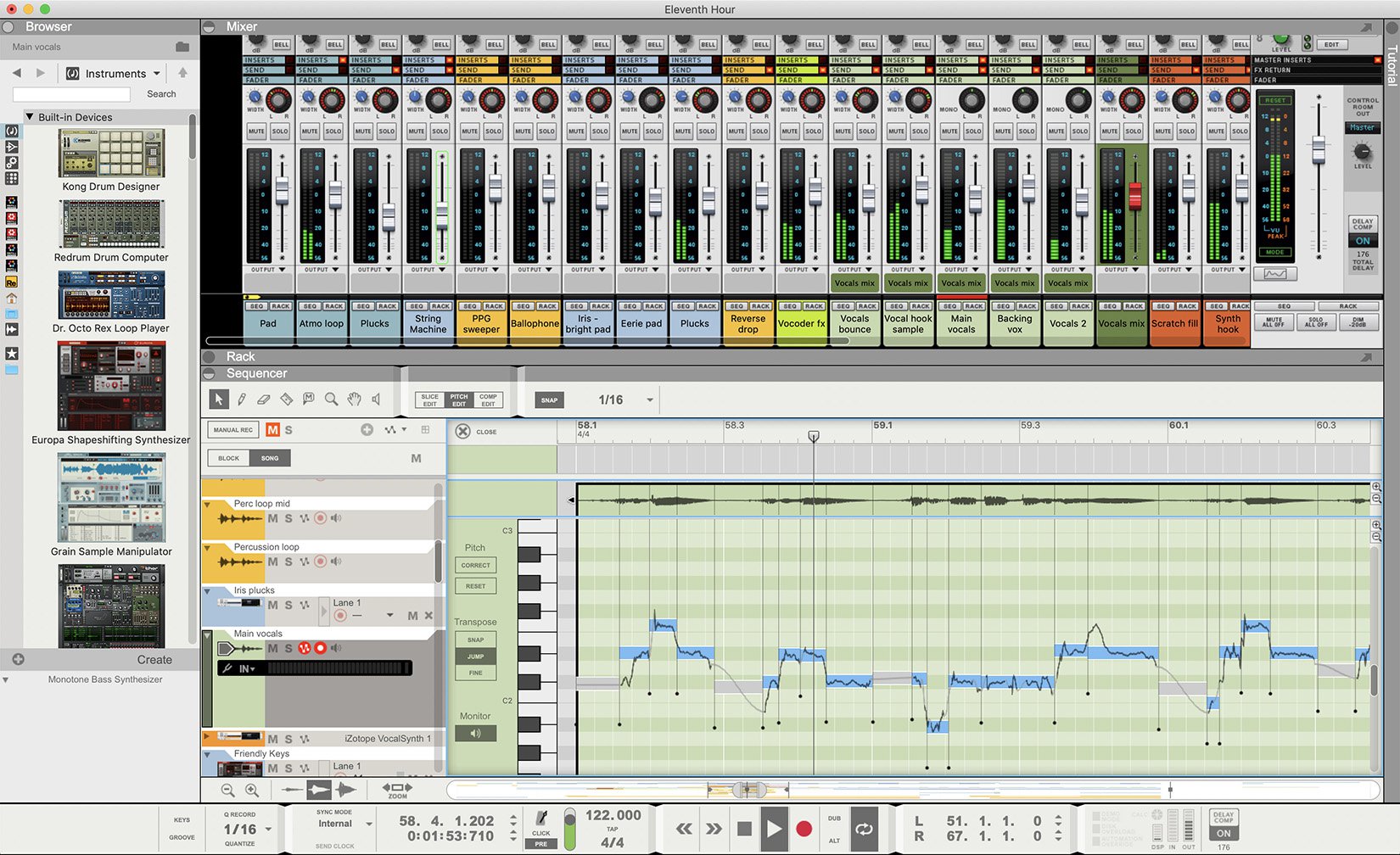 Reason has always been a unique DAW, with its rack-based workflow and fantastic SSL modelled mixer, it offers a certain charm to producers who enjoy the uniqueness of the way it works. 
Now offering a Subscription Service called Reason+ which costs £19.99 per month, there is a great entry point there. It's also unique in that it can be run as a standalone DAW or as a plugin inside other DAWs, allowing its unique features to be used individually. 
If a subscription model isn't to your taste, you can grab Reason 11 for £399, with a free upgrade to Reason 12 when it's released. There are loads of cool features included in Reason, a collection of fantastic instruments and effects, and its unique doubling as a DAW and a Plugin make it a great addition to your music production library, if not your main DAW.
Bitwig Studio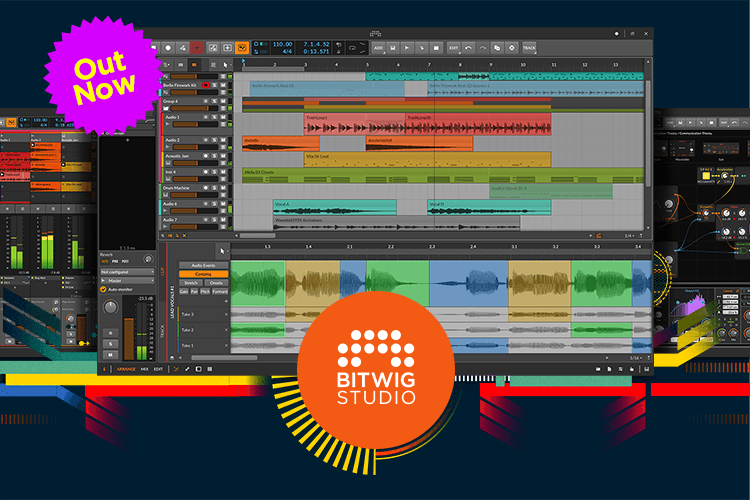 Bitwig Studio is a DAW made by some former Ableton developers, and this is clear when running it for the first time. It offers a lovely sense of familiarity, but with a ton of unique features that have allowed it to stand apart from Ableton Live.
It is often touted as the most inventive DAW on the market; its new feature 'The Grid' adds a fully modular environment to Bitwig Studio, giving a ton of options for creating your own instruments and FX. There are intuitive tools to record, edit and arrange audio, as well as a Live performance feature very akin to Ableton Live's.
Bitwig Studio's full version is priced at 399 USD / EUR and is a great price, if you can make the inventive and unique DAW work for you.
Our thoughts on the best priced DAW.
It's clear from looking at the above list that one DAW is significantly cheaper than some of the others on offer. Logic Pro X is the cheapest of the lot; the only one offering a full version under £200. Logic Pro is a great DAW, with some fantastic features. 
However, this may not be as good a deal as it initially appears, since Logic Pro X is famously only available for Mac computers. Now, we have spoken in another article about how to get Logic Pro working on a Windows PC, but there are drawbacks there, one of which being limited support options.
So while Logic is the cheapest at face value, you have to consider the price point of a Macbook or iMac to run it, and we all know that these can cost (let's be honest) silly amounts of money. 
So there is a balance to be struck when shopping for music production software. While Logic Pro X is the cheapest DAW in the list when taken at face value, there is more than just the price of a DAW to consider when buying. Each different DAW listed above has its own unique flavour when it comes to workflow and design. Some even argue that you can hear the difference from certain DAWs compared to others, while some are geared more towards a specific type of music making than others are. You really have to think about it from all angles.
I think the most important thing to consider when buying a DAW is what you're getting for the money, rather than just the price alone, as remember, it isn't always the best option to buy cheapest! But for me, Ableton Live and Logic Pro will always hold the top 2 places when it comes to options for a DAW.
____
Thanks for checking in with us here at Top Music Arts, and make sure to check back for more info on all things music production!
---
Share this post
---
---