FL Studio vs Logic Pro: Which One is Right for You?
Posted by Esteban Miranda on
There are many choices for DAWs these days, with a huge amount of options for you to choose from. There are certain big name DAWs which are the most popular, but there are also a surprising amount of lesser known options out there. Suffice it to say, as a music producer in 2023, you're spoilt for choice!
And what's more, is that there isn't a one size fits all solution to this problem. Choosing a DAW is a lot like choosing a phone; they all do the same basic thing, but the ways in which it is approached can be wildly different, and just like phones, some DAWs focus on certain aspects as their speciality.
So, in this guide, we are going to compare two of the biggest DAWs on the market today. These DAWs are FL Studio and Logic Pro We compare the different features, outlining what each program offers its users. 
We will cover:
An overview of both FL Studio and Logic Pro
A comparison of their interfaces and workflows
Some tips on choosing the right DAW for you
and more!
So, let's dive right in!
Unlock the DAW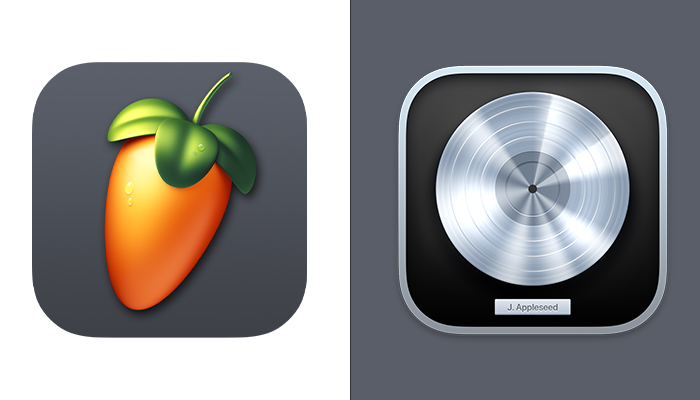 While they share some common features (because they have to - DAWs need to all be able to do the same things after all) Logic Pro and FL Studio are remarkably different in their approach to music making. All DAWs have some distinctive features which might make them either more or less appealing to new producers, depending on the type of music you want to make, and how you'd like to approach your workflow.
It's worth pointing out something important before we dive in, though. Both DAWs are professional music making softwares. They're versatile, intuitive and capable of creating industry standard productions. In fact, both Logic and FL Studio are used by many professional producers to make their music. This is worth saying because in the past, FL Studio has had a reputation as being somehow "less than" other DAWs. But make no mistake, it's a fully capable music production workstation, with a ton of amazing features, just like Logic Pro.
In case some readers are confused, it's worth pointing out what a DAW actually is.
They've been around since the late 1970s, and DAW stands for Digital Audio Workstation. They allow you to compose music, edit and export audio, and work with MIDI to create in depth music productions.
While they evolved out of the physical record studio world, allowing audio to be recorded digitally, things quickly escalated, so that now, in 2023, you have access to thousands of high quality sounds and plugins which a few decades ago would have only been available in the most high end of recording studios.
Further, there's one music scene in particular which exploded due to the introduction of DAWs, and that's electronic music.
It makes sense; you can now control nearly limitless tracks of audio or MIDI, and use high end, professional electronic digital synthesizers to create virtually any sound you could imagine. 
If you're interested in making electronic music today, all of the tools are available in a DAW.
So, now let's dive into some of the specifics of Logic Pro and FL Studio.
Comparing FL and Logic

To a layman, the above images may look like they're from the same program. Only experienced music producers can really understand the difference of the two images. 
As you can see, the interfaces share some similarities; the grey background, the bright colours to label different features or regions, the same basic linear left to right timeline where the track is constructed. 
But under the surface, there are a remarkable amount of differences between the two DAWs.
So how can you choose the best DAW for you?
A good idea is to look at artists who inspire you, and see if you can find out the DAW they use. Each DAW involves a learning curve, and once you master one, you can always change to another one. I myself have used several over my music career; I started on Cubase and Grageband, then moved to Logic and Ableton, and have also thrown some FL Studio in to the mix for good measure. 
My personal preference is Ableton Live, but that's purely because my degree was taught using this, so I had a detailed amount of tutoring on Ableton specifically.
However, there are certain jobs I still prefer Logic for, so it's a complicated question when it comes to choosing a DAW for you.
Learning your first DAW is going to be a big investment of your time, so you need to do your research to make sure it's going to be the best one for your needs.
Here are a few useful tips to consider when looking for a DAW:
Compatibility with your current equipment
Intuitiveness and workflow
Expansion capabilities
Price (including prices of additional plug-ins, VSTs, and so on)
Tutorial, assistance and community support
If it's between two options, as in this guide, you should compare the two. What do they do in a similar way? What do they do differently?
The main differences between Logic Pro and FL Studio are as follows:
Logic Pro works exclusively on Mac computers, whereas FL Studio works on both Windows and Mac. So if you're running Windows, Logic isn't available to you.
Logic Pro costs $200, and is frankly one of the best priced DAWs on the market. But there is no guarantee of lifetime free upgrades. While many users report only paying for it once and having years worth of updates, it's not confirmed. Especially if they eventually release Logic Pro 11, it isn't guaranteed that existing owners will get it for free. On the other hand, FL Studio buyers get the updates and revisions free forever. Depending on the edition you choose, you can pay anywhere from $100 to $900 for this DAW.
FL Studio can run on 32-bit or 64-bit processing, whereas Logic Pro is mostly set for 64-bit.
Logic Pro allows you to work with more audio tracks than FL Studio.
So, let's get a little more detailed, so you can see the specific features present in each DAW and decide which one is right for you.
An Overview of Logic Pro
Logic Pro is Apple's flagship DAW. It's easy to use, has a simple UI which belies the advanced functionality underneath it, and comes with a huge range of plugins and loops all for one price. Seriously, for $200, you aren't going to get this much in one package anywhere else on the DAW market.
Mac owners get Garageband as a free app installed on their macs, and it's really a stripped down version of Logic Pro. While in past years, the two were distinctly separate, with Logic 9 having a much more complex looking UI and Garageband being seen as something of a toy - much like early Fruity Loops - the two are now basically sibling programs.
So, if you have a Mac and don't yet own Logic, try out Garageband. There are many similarities, and you can even open Garageband projects in Logic once you upgrade.
Logic Pro X has a wide range of features which make it a good choice for music producers.
Let's dive into what those are!
Live Loops
One of the newest additions to Logic Pro, Live Loops gives you a novel and non-linear way of making music. This isn't a unique feature, as programs like Ableton Live have implemented this type of music making for years, but it's relatively new for Logic users.
Live Loops allows you to jam out your musical ideas in real time, experimenting with structure, individual ideas and all sorts of sounds. 
Using cells - individual building blocks containing musical ideas - you can build your song in real time.
It's intuitive, it's simple and most importantly it's fun. Don't underestimate the value of fun when it comes to music production!
What I love specifically about Live Loops is how well it integrates with Logic Remote, the free companion app for iPhone or iPad. 
Logic Remote
The world of mobile music making, using our handheld devices to aid us in creating our musical masterpieces, has been a natural extension of the explosion of DAWs.
Logic Remote is a perfect example of this concept done right. The app is free, which I am still excited about, and contains pretty much every feature you have on the main Logic window.
Just load it up on an iOS device on the same network as your Mac, and you'll be prompted to automatically connect. You can then control Logic directly from your iPhone or iPad, and it makes things so much easier and more intuitive. 
I'd go as far as to say that Logic Remote makes choosing Logic Pro the best option, but let's not jump the gun!
Extensive Suite of Plugins and Loops
All Garageband users will be familiar with Apple Loops. This huge library of high quality audio and MIDI loops is extensive and super fun to explore. They're all royalty free, so fine to use in your own productions, but if you're not a fan of using Loops in your music because you think it's "cheating", they're a great learning resource.
What makes Logic Pro truly great though, is the full suite of professional instruments and plugins that come bundled with the software. Seriously, I can't overstate how good a deal this is. Most other DAWs offer a tiered pricing structure, so you get a basic version for an affordable, entry level price, with middle and then high tier versions with increasing amounts of goodies bundled in for higher prices. 
This isn't the case with Logic Pro. You're getting all of the high quality instruments, plugins and effects for one price, which is $200.
Logic's Sampler has been greatly improved, with more sound shaping and synthesis tools, and a sophisticated mapping editor allowing you to create complex sounds. The new waveform editor allows more precision in sample editing too.
You've also got Quick Sampler for processing single samples quickly. Dragging and dropping audio files to create a playable sample instrument is as easy as it sounds!
Another great new addition is Drum Synth, a sophisticated drum programmer, allowing you to make and edit a wide variety of drum sounds. 
These are only a few of the many instruments available in Logic Pro. There are also some really amazing effects too. Compressor is brilliant, offering a range of classic analog emulations. 
Space Designer is an amazing reverb plugin, allowing you to dial in all sorts of reverb for your music, from classic room sounds to wild and weird effects.
Simple UI Design
I remember using Logic Pro 9, and the interface in that version was decidedly less visually appealing than it is now. Sure, there was a certain crowd that preferred the complicated looking interface, because it makes you feel like you're doing cool and technical work, but you can't beat a nice clean simple UI, in my opinion.
Logic Pro X has a super clean interface, which makes everything clear and simple. One of the best things they did when they launched the redesigned Logic Pro was make the visual style consistent with Garageband, and also with Apple's overall focus on simplicity in its UI, and excellence in its function. You can't argue about the fact that Apple makes outstanding products, and Logic Pro is no exception.
When it comes down to it, the UI is a direct window into the software. It's the whole part of the user experience; you're going to be staring at this interface while you make your music.
If a cleaner UI is what you prefer, then Logic Pro may be the DAW for you.
The Pros & Cons of Logic Pro
There are certain things that all DAWs do well, and then other things that particular DAWs excel in.
Let's explore the pros and cons of Logic Pro in a nutshell, and then we will move on to discuss FL Studio.
Pros
A professional level DAW with a full suite of instruments and effects for a super competitive price.
Incredible Audio Recording capabilities. Logic Pro

 

is the perfect choice if you know you're going to be recording a lot of real instruments or audio.
Live Loops

 

mean Logic

 

can now compete with other DAWs which may focus more on electronic music production.
Can install on as many computers as you own.
Cons
Only officially available on Mac, and given the price point of Mac computers, this is off putting to a lot of the producer market. It is possible to run Logic Pro on Windows through Mac emulation software, but this isn't officially supported.
Not as focused on electronic music production as some of the other DAWs out there. This isn't to say that you can't make electronic music in Logic Pro, just that other DAWs handle it better.
It can use a lot of RAM, especially if you're using an older Mac.
An Overview of FL Studio
FL Studio started its life as Fruity Loops, a fun loop sequencer which was nowhere near the fully fledged DAW it is today. It's beloved by electronic dance music producers the world over, because its workflow easily facilitates this type of production. This isn't to say you have to produce electronic music with FL Studio, but if that's what you're interested in over recording real instruments, then FL may be the DAW for you, over Logic Pro.
While originally a Windows only DAW, FL Studio is now available on both Windows and Mac, so there are no hardware limitations in that area.
One of the biggest things about FL is the lifetime free upgrades, which means you pay for it once, and get every update free in the future. This is a great feature. It also has an ease of use which makes it popular, as well as its wide range of features, effects and a fully customisable interface which makes it great for people who like to organise their software to their liking.
It's also really easy to learn, which makes it a great first DAW to choose.
Far from the "toy" it once was, FL Studio is now a powerful DAW, capable of creating amazing productions and in use by some of the biggest EDM producers in the scene.
Let's look at it in a little more detail.
Editions of FL Studio
The first thing to note about FL Studio is that, unlike Logic Pro, it offers a tiered pricing structure. There are 4 editions of FL Studio, which are as follows:
Fruity Edition - $99 - This edition is an entry level DAW, offering limited playlist features, but with no audio clips or audio recording. This is good to get if you're looking at making some electronic beats, but it's a fairly limited bundle.
Producer Edition - $199 -

 

This version is aimed at people who want to make use of "full song creation & mic recording". There are also 6 additional native plugins which allow you to explore the features of FL Studio. You can make full tracks with this edition, making use of both audio and MIDI features.
Signature Edition - $299 - This edition is the Producer Edition

 

with 13 additional native plugins, allowing you to make use of even more of FL Studio's features to make your tracks.
All Plugins Edition - $499 - The All Plugins

 

Edition of FL Studio

 

is aimed at the professional producer (or the hobbyist who likes having the best of things!) giving you full playlist features, audio recording and all FL Studio native plugins

 

available at the time of purchase. 
The different versions of FL Studio allow you to explore it from the entry level right to the fully fledged All Plugins Edition. While this isn't as good a deal in terms of Logic Pro's price point, because there's a $300 difference in the price, it's good that you can try FL Studio for such a cheap entry level price.
Another point to note is that sometimes, getting access to the fully fledged DAW can be overwhelming, so offering stripped down versions which only contain the basics is a good way to help new users learn.
But what exactly are the features of FL Studio that make it so unique?
Let's explore, shall we?
The Channel Rack
 FL Studio's Channel Rack is unique in that you can't really find a similar way of working in other DAWs. It's one of the features that is so popular within the FL community, and it's not hard to see why.
The Channel Rack allows you to quickly sketch out ideas for fast creativity, allowing you to get straight into the groove.
As you can see above, there are different tracks corresponding to a Kick, Clap, Hat & Snare, as well as a step sequencer where patterns for these can be drawn in.
However, you aren't only limited to drums. You can use any instrument in the Channel Rack, and if you use a melodic instrument you'll be able to use a piano roll to get some nice melodies or chords written in.
The whole allure of Channel Rack is that it allows you to make quick musical ideas, which FL Studio stores as Patterns. You can then drag these Patterns into the Playlist, and use them as building blocks for your songs.
As I'm sure you can imagine, this type of working lends itself perfectly to the creation of electronic dance music, which is why FL Studio is so popular with EDM producers!
Full Customisation
Another huge win for FL Studio is the fact that each different window you work in can be moved and scaled, so you can set up the appearance of FL Studio to suit your own workflow and production needs.
Compared to the rigid layout of other DAWs, this is a big plus. Being able to set up your workstation exactly to your needs is only going to help facilitate quicker and more efficient music making.
The Browser
FL Studio's Browser is also a great feature, giving you a selection of all the tools you'll need to make your music in one place. 
It contains your plugins, samples, instruments, as well as folders with specific contents related to the current project. 
You can import your own sample folders easily, and working with the Browser makes your production sessions quick and efficient. 
It's great when you see that a developer has really considered the workflow elements to their DAW design, and this aspect of FL Studio in particular really helps speed things up and make your workflow as efficient as it can be.
The Piano Roll
FL Studio's Piano Roll is legendary among the community, and for good reason.
It's got a deep collection of features, and there's really nothing else quite like it in the DAW market. You can compose song ideas with unlimited complexity using the Piano Roll, and its features are guaranteed to get amazing results for your music.
You have options for strum, arpeggios and custom quantisation, which really allows you to get hands on with editing humanisation data. 
What's more, everything is clearly labelled and the learning curve is quite easy, so you'll be intuitively working in no time!
Pros & Cons of FL Studio
As with all DAWs, FL Studio has areas where it does things well, and some areas where it could be better. 
Let's have a look at the pros and cons of FL before we go on to compare the two DAWs.
Pros
A fully customisable DAW, allowing you to organise things to your specific workflow.
Piano Roll is seen as the best in the business.
Tiered Price options mean you can get playing with FL for a budget-friendly price.
The Browser makes navigating your projects quick, easy and intuitive.
Easier learning curve than some other DAWs.
Cons
Workflow is quite different from other traditional DAWs, if you're used to working in others before this, you might have a tough time.
Plugin Management could be better.
Tiered Price option means you are paying comparatively more for the full version than Logic Pro.
Lacking in Audio Quantisation compared to other DAWs.
Verdict
Choosing the best DAW option for yourself is a complicated process, and it's super important to do your research before committing to paying for software. Luckily for you, we've done a lot of the research for you here, so here are the key points to consider.
In terms of reputation, Logic Pro is renowned as a professional, industry standard DAW, while FL Studio is still somewhat held back by its former reputation as a bit of a toy. That isn't to say that this is still the case, however. FL Studio is a feature rich DAW with some really unique points to it.
Another thing you need to consider is the style of music you want to make. If you're interested in making loop-based electronic music, then FL Studio is great for this. Its much loved channel rack is perfect for quickly getting into the groove and making ideas, while its entire workflow is focused around helping you to build tracks quickly.
Logic Pro, on the other hand, while perfectly capable of creating electronic dance music, is better suited to audio recording than FL Studio is. If you know you're going to be making music with a lot of recorded instruments, then perhaps Logic Pro is the better choice for you?
In terms of the UI and the learning curve, they're both similar, with FL Studio being slightly easier to grasp than Logic. If you're going into either DAW as a newcomer, you'll have to learn your way around things, but I think that Logic Pro has a bit more to learn than FL does, especially in terms of things you need to know to get making music quickly.
There are plenty of online communities and YouTube creators who are dedicated to helping new users learn both DAWs, so you're fine in that department. Just know that it's going to take you some time; you won't be a master overnight.
When it comes to price point, I think there's a clear candidate for better value, and that's Logic Pro. And this really isn't to disparage FL Studio in any way; Logic's price is more competitive than most other DAWs on the market. Logic Remote for iOS also sweetens the deal, and it's a free app.
Overall, these two DAWs share a lot of similar features. Their mixers are comparable, and the general process of building a track in a linear timeline is the same in both. They also both really shine when it comes to working with loops.
There are specific areas where each shines in comparison to the other one, and there's definitely a genre consideration. EDM producers seem to prefer FL Studio over Logic Pro. Though that isn't to say that you can only make EDM in FL, or that you can't make it in Logic.
The most important thing is that you've done your research and you're eager to learn. Regardless of the choice you make, you'll be making music in no time if you stick to learning and progressing!
So, hopefully this gave you a good insight into the differences and similarities between FL Studio and Logic Pro, and now you'll be in a better position to pick which DAW is right for you!
---
Share this post
---
---